Covid19 updates 01.07.20 - Travelling to and from school
Covid19 updates 01.07.20 - Travelling to and from school
1 July 2020 (by admin)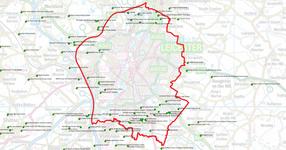 Dear parents,
We have now had confirmation from the DfE regarding travel in and out of the boundary. The following principles have now been agreed, and must be followed:
This means that from Thursday 2nd July 2020 pupils who live within the red boundary lines below must stay at home during this new lockdown period. Following the advice of the government.
New Lubbesthorpe Primary School is located outside of this line and pupils living outside of this line may attend school. We will continue to upload work on our website for those who are being home schooled. Thank you for your support with this matter. We will keep you updated as we learn more.
If you are unsure and would like some advice with this communication, please feel free to call our main office on 0116 2169963. We will continue to communicate any updates via our school APP. Details for this can be found on our school website.
DfE - Communication below:
That vulnerable children / children of critical workers are permitted, allowed to travel into / out of Leicester for education/care or, in case of vulnerable children, to attend meeting with social worker's/family courts. This would include parents taking children to school.
That no other children should travel in and out of the restricted area to attend education / care – i.e. if you are a child (other than vulnerable children/children of critical workers) that lives in Leicester but attends school outside, you must stay home. Likewise, if you live outside of Leicester and travel into the city for schooling, you must stay home.
https://www.leicestershire.gov.uk/coronavirus-covid-19/how-you-can-help/increased-restrictions-for-leicester-and-parts-of-leicestershire-announced